I am all about eating skewered meats during the
summer
, and these garlic butter beef kabobs are my absolute favorite way to do grilled steak.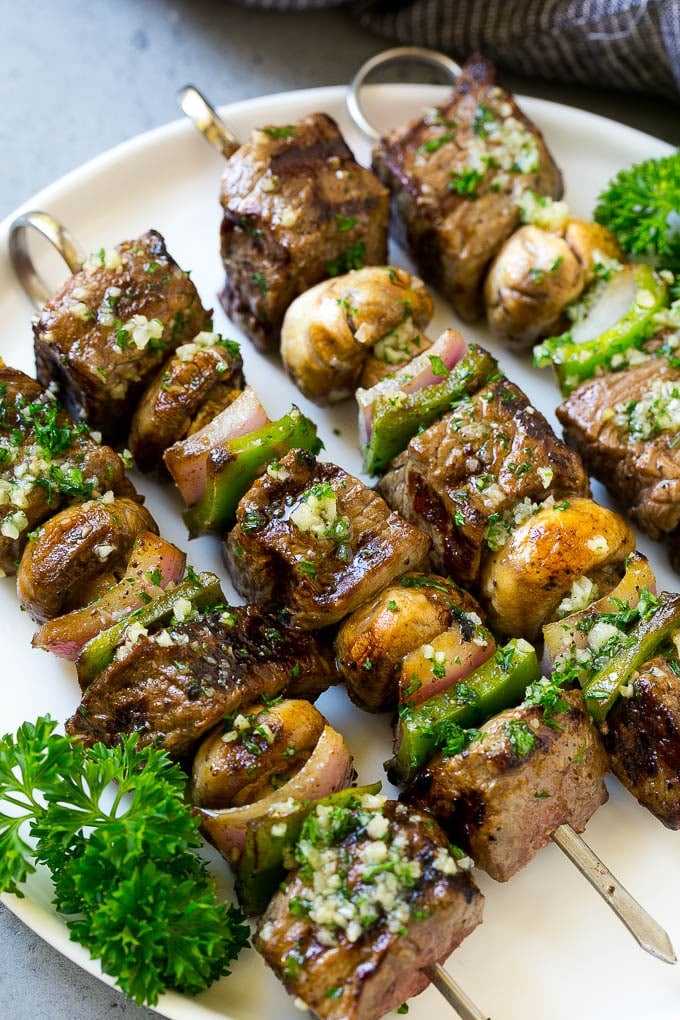 Easy dinners….what mother doesn't love them? I'm all for cooking but I also like when I don't have to put in a ton of effort. Those are the nights that I whip up these steak kabobs with garlic butter. I love making all kinds of kabobs but these really hit the spot when it comes to flavor!
HOW DO YOU MAKE STEAK KABOBS?
Making kabobs is one of the easiest tasks you'll ever tackle. Once you have your meat cut to the right size, thread all of your ingredients onto the skewers. Grill the beef kabobs to perfection on each side then brush on that glorious, aromatic garlic butter mixture. You can then serve one of the easiest dinners you've ever made.
---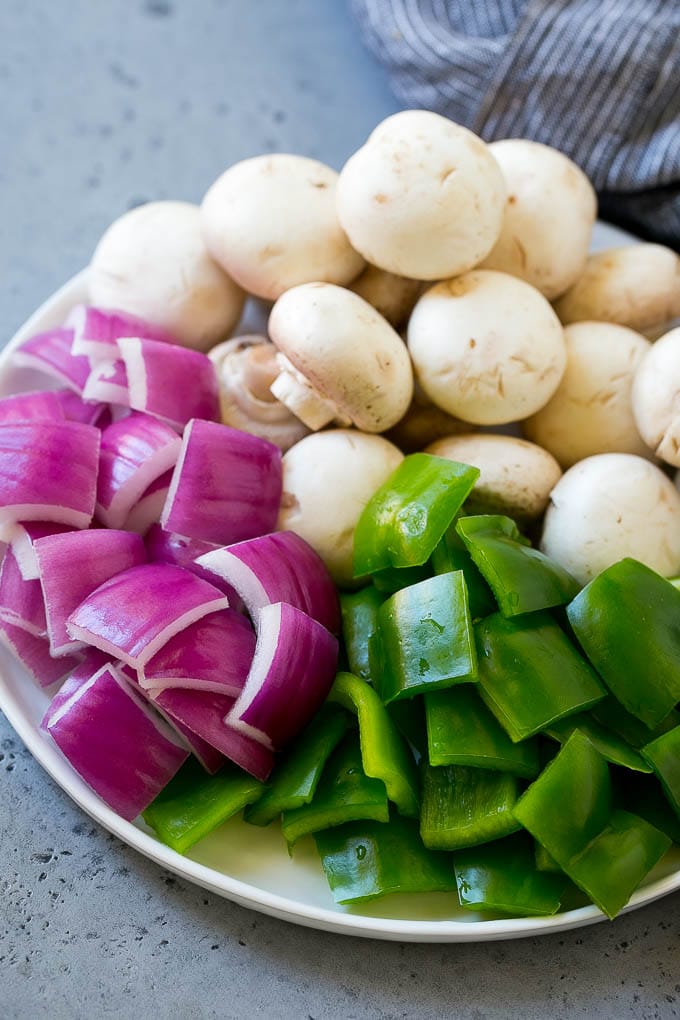 Everyone has their own steak preference and mine is sirloin. Sirloin is what I used for my beef kabobs recipe although other cuts of steak will get the job done. I would suggest using rib eye or New York strip steak as a substitute for sirloin, although they tend to be pricier.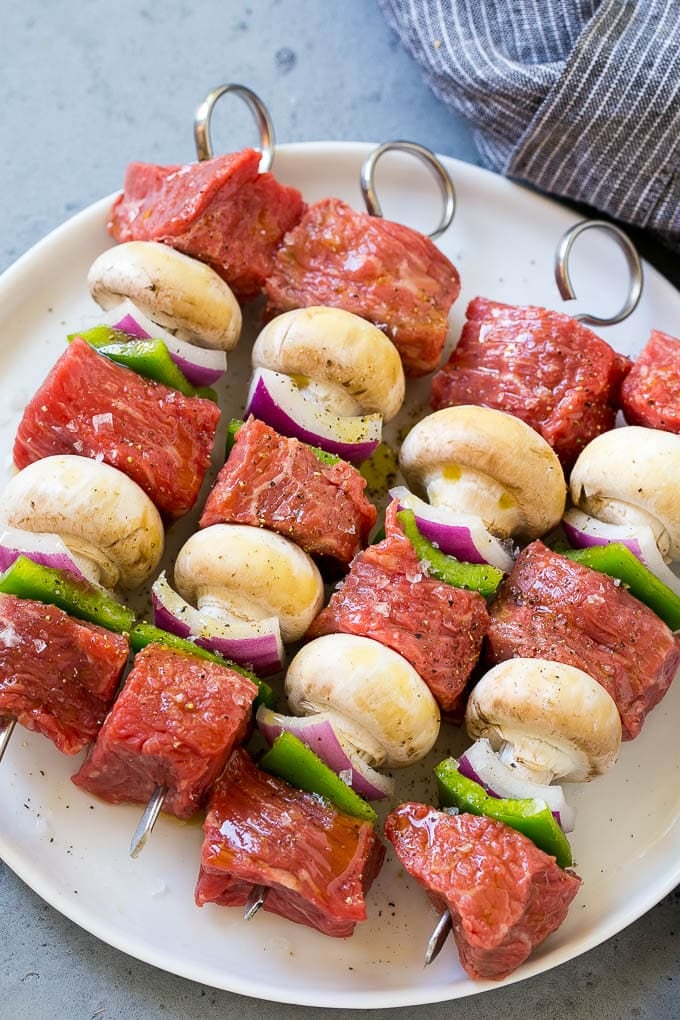 If you don't have access to a grill or you just don't feel like getting the grill set up, these steak kabobs can be broiled in the oven as well. You can also cook them indoors on a grill pan. Be sure to follow the directions in the recipe for broiling rather than grilling if you go the oven route.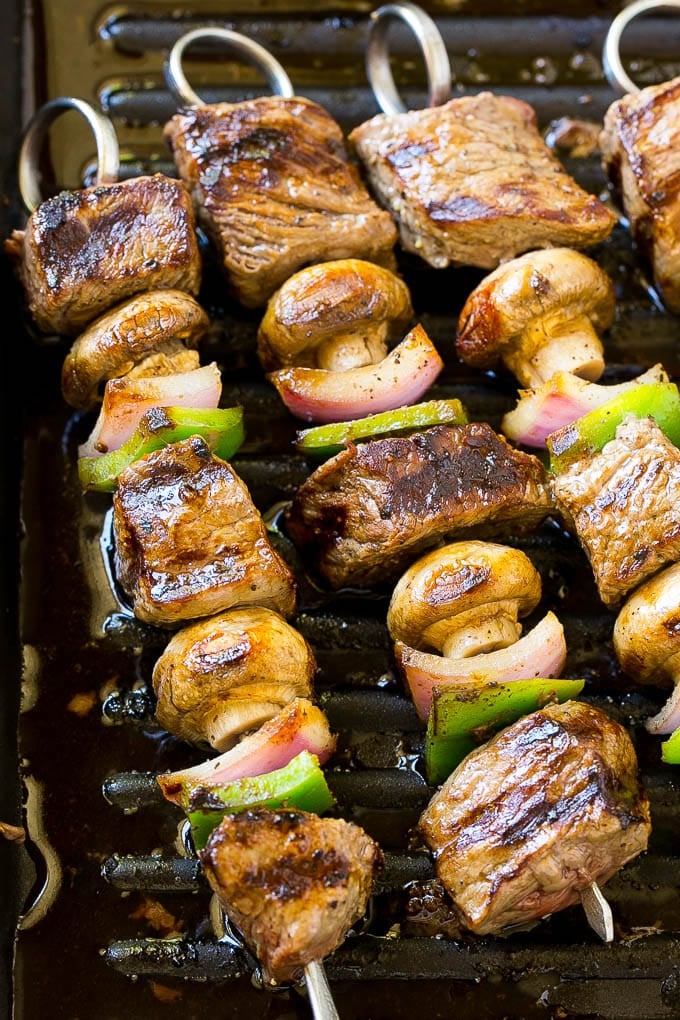 WHAT'S THE DIFFERENCE BETWEEN SIRLOIN AND OTHER STEAKS?
The main differences between each type of steak is where it comes from on the cow. Different portions of the cow result in various types of steak. For example, filet mignon is a portion of the cow that does little work muscle wise which results in a softer more buttery type of steak.
I use a combination of peppers, onions and mushrooms for these kabobs because they're a classic flavor pairing with steak. You can substitute other veggies if you like. Other great veggie options are zucchini, cherry tomatoes, and asparagus.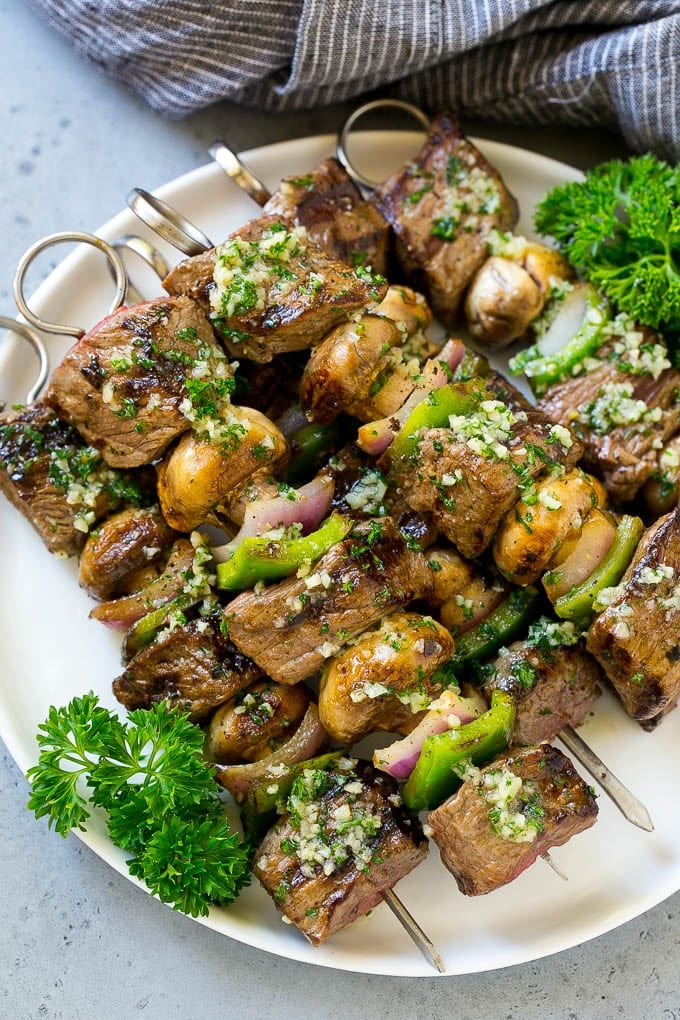 Did I mention how easy these steak kabobs are? If I have, I don't mind saying it again. They're a delicious meal that takes little effort and pleases the entire family while giving mama a break from the difficult dinners. The steak is tender and juicy, the vegetables crisp and fresh, and you can never go wrong with garlic butter!
MORE STEAK RECIPES YOU'LL LOVE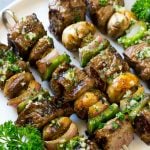 Pin
More Recipe Ideas & Resources
---
Steak Kabobs with Garlic Butter
These steak kabobs are pieces of sirloin beef skewers with mushrooms, peppers and onions, then grilled to perfection and finished off with garlic butter. An easy and hearty dinner option!
Instructions
Heat a grill or indoor grill pan to medium high heat.

Thread the beef, mushrooms, pepper and onion onto skewers.

Brush the meat and vegetables with olive oil and season generously with salt and pepper.

Place the kabobs onto the grill and cook for 4-5 minutes per side.

Melt the butter in a small pan over medium low. Add the garlic and cook for 1 minute.

Remove the pan from the heat and stir in the parsley and salt and pepper to taste.

Brush the garlic butter all over the steak kabobs, then serve.

Broiler directions: Prepare the skewers as directed and place on a sheet pan coated with cooking spray. Broil for 4-5 minutes per side. Continue with the recipe as directed.
Article source: https://www.dinneratthezoo.com/steak-kabobs/