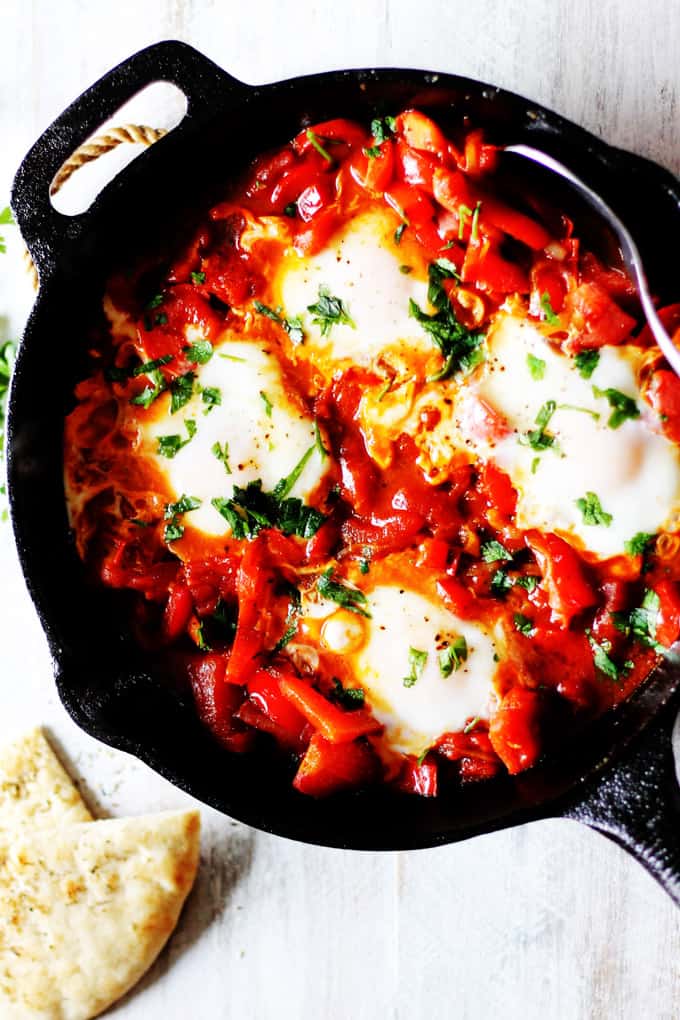 What Is Shakshuka
Shakshuka it's not at all a traditional American eggs with bacon type of breakfast. As a matter of fact, I was a little skeptical wondering if my husband will be up for a challenge. But he gave me the green light. O-M-G, there was no disappointment here. The moment he tasted it, he said that this dish was absolutely incredible. I couldn't agree more.
---
Shakshuka is a Mediterranean breakfast of eggs poached in a very flavorful sauce made from bell peppers and tomatoes with garlic, onions, and spices. It is usually served with pita bread or other Mediterranean bread (depends on a country and traditions).
If you are trying to eat a Mediterranean diet this breakfast is for you. And if you're looking for more Mediterranean easy recipes check my compilation of the Best Mediterranean Recipes from this website.
How to Make Shakshuka, this Classic Mediterranean Breakfast
To make this easy Mediterranean Breakfast, you'll need just a few ingredients:
However, I just think that Harrisa has this unique, peppery flavor that is just irresistible. And, while not often found in your traditional supermarket, you can easily get it on Amazon. There are two versions sweet and spicy. For this recipe, I used spicy one but feel free to use mild if that's what you prefer.
To Make Shakshuka:
Just saute onions and peppers, add garlic and Harrisa, tomatoes and sugar and let it cook for a couple of minutes. Check for seasoning, add salt and pepper and your base is done.
Then you just need to make 4 little indentations in your base and crack the eggs in them.
Cover and cook until eggs are just set.
Watch it carefully because you don't want to have overcooked eggs. It's hard to measure in minutes since it depends on eggs size and on how the egg spreads. I would say, check every 2 minutes and if you see that egg whites are set, take off the cover and remove from heat.
Sprinkle the parsley and serve with warm pita bread or other bread of your choice.
Cook Peppers and Tomato Sauce
Crack the eggs in the sauce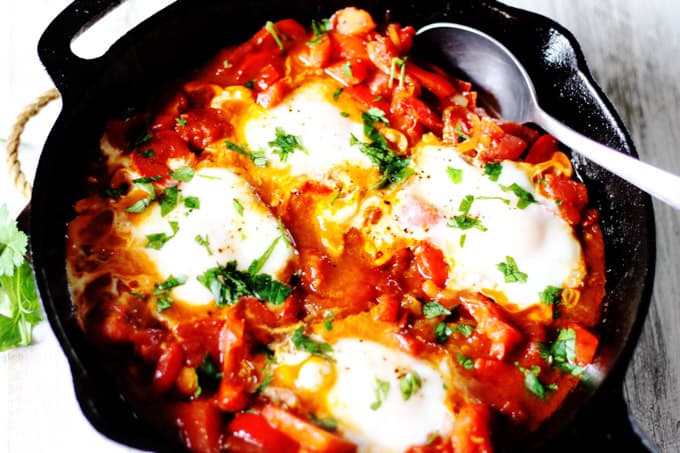 What to Serve Shakshuka with
Traditionally Shakshuka is served for breakfast with pita bread, other crusty bread or breakfast rolls . However, you could serve it also for brunch, lunch or dinner. If you do so, you could serve it alongside:
More Recipe Ideas & Resources
---
Shakshuka – Classic Mediterranean Breakfast
Shakshuka is a Classic Mediterranean Breakfast with poached eggs in tomato pepper sauce. There are many interpretations of Shakshuka, but in its most basic form, it is simply a bell pepper with tomato dish, with eggs poached in. It's so simple and yet so amazing. Actually, Divine!
Ingredients
1

Onion

finely sliced

2

Red bell peppers

finely sliced

2

cloves

Garlic

1 15

oz

Chopped tomatoes

1

teaspoon

Sugar

1/2 – 1

teaspoon

Spicy harrisa

4

Eggs

1

tablespoon

Chopped parsley

2

tablespoons

Olive oil

Salt and pepper to taste
Instructions
Heat the oil in the heavy skillet like cast iron

Add onions and peppers and cook them until soft for about 5 minutes, stirring occasionally

Add garlic and cook for another minute

Add tomatoes, sugar, and harrisa and cook for about 7 minutes

Season well with salt and pepper and add more harrisa if you want more spice

With a wooden spoon, make 4 indentations in the mixture and add an egg in each of them

Cover the pot and cook until the egg whites are just set

Sprinkle with fresh parsley and serve immediately with pita bread or crusty bread.

Enjoy.
Article source: http://innocentdelight.com/shakshouka-classic-mediterranean-breakfast/