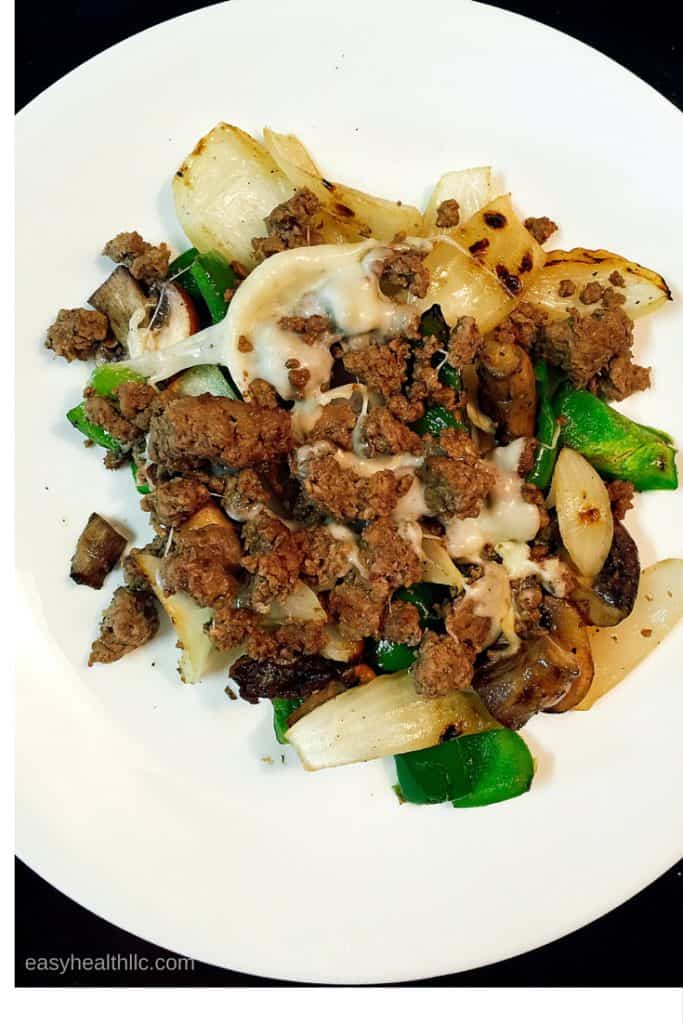 Low Carb Philly Cheese Steak Bowl uses already-in-your-pantry ingredients to make a quick and easy favorite even better. If your family wants traditional cheese steak, just warm up a few hoagie rolls and everyone's happy!
More Healthy & Deliceous Recipes
---
So you're probably wondering when I'm going to stop with the philly cheese steak recipe variations- never! (obviously) First there was Low Carb Philly Cheesesteak Cups , next there was Philly Cheesesteak Stuffed Mushrooms and now there's Low Carb Philly Cheesesteak Bowl! (Follow up alert: I've since posted a chicken based version of this recipe : Low Carb Chicken Philly Cheesesteak Bowl !!)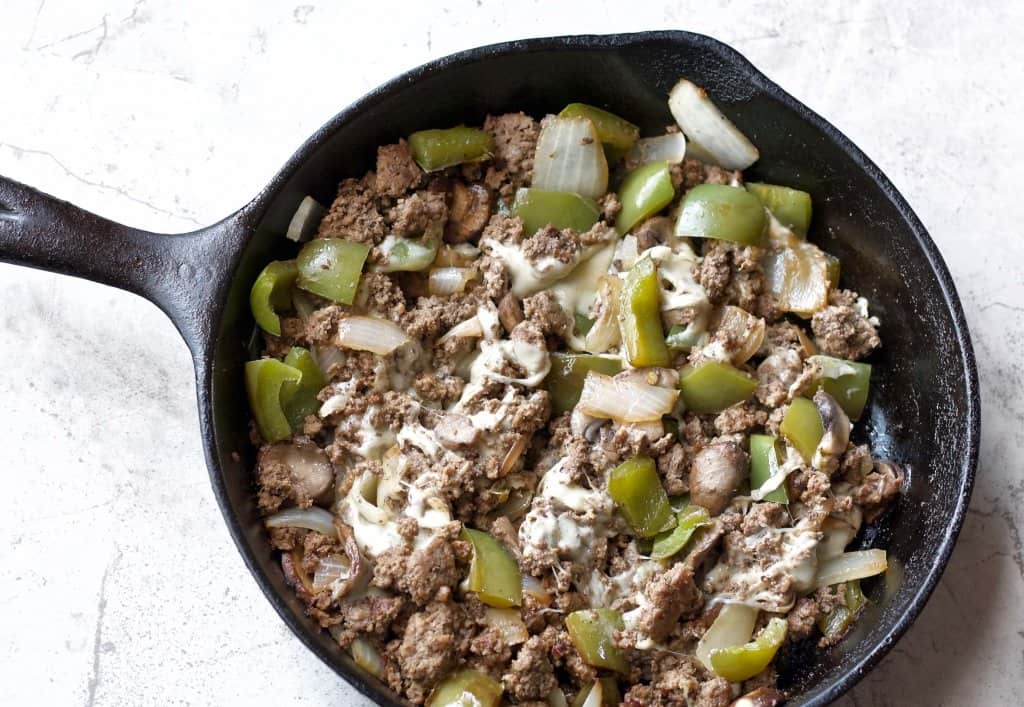 So no, I will never give up on my pursuit of the ultimate low carb philly cheese steak experience. Thanks to modern technology, I can share my obsession with the millions (lol) who read my blog!
In this version, we have grilled peppers, mushrooms and onions as a base- you can also roast these in the oven rather than grilling them if you prefer, but they are delicious AMAZING grilled. Just sayin'.
So let's get started: Procure your ingredients (speaking of ingredients, we are using ground beef, how easy is that?) and meet me below in the recipe box (aka philly cheesesteak lounge).
World domination one low carb philly cheesesteak recipe at a time. This one with grilled peppers and onions, the requisite provolone cheese and ground beef. Yes, it really is that easy.

Course Main Course

Cuisine American

Keyword low carb philly cheesesteak

Cook Time25minutes

Total Time25minutes

Servings4

Calories385kcal

AuthorEasyhealthllc
Ingredients
1poundlean ground beefgrass fed if available
1/2cuplower sodium beef broth
1-2Tablespoonsworcestershire sauce
2medium onions
3green bell peppers
5-6mushroomshalved
1teaspoonolive oil
4slicesprovolone cheese
salt and pepper as desired
Instructions
Brown the ground beef in a nonstick skillet.

Drain excess fat from skillet and add broth and worcestershire sauce to beef. Continue to cook on medium until liquid is absorbed. Salt and pepper beef as desired.

Turn heat off and arrange cheese slices over ground beef – cover pan and allow cheese to melt.

Cut peppers and onions into large pieces and place in a medium bowl. Add mushrooms and toss with 1 teaspoon olive oil and sprinkle with salt and pepper as desired.

Grill veggies over medium heat until crisp tender, turning as needed. (Or roast in a 400 degree oven for 10-15 minutes until crisp tender)

Divide veggie mixture between 4 bowls. Top with beef divided equally among bowls.
Nutrition Facts

Low Carb Philly Cheesesteak Bowl

Amount Per Serving (1 g)

Calories 385Calories from Fat 207

% Daily Value*

Total Fat 23g35%

Saturated Fat 11g55%

Cholesterol 90mg30%

Sodium 390mg16%

Total Carbohydrates 13g4%

Dietary Fiber 3g12%

Sugars 6g

Protein 32g64%

* Percent Daily Values are based on a 2000 calorie diet.

Article source: http://easyhealthllc.com/main-dish/low-carb-philly-cheesesteak-bowl/