It's that time of year again: I want to throw everything and anything on the grill. How about you?
Pros to using the grill: less dishes. You can work on your tan while it cooks. Less dishes. You get to wear flip flops. Did I mention? Less dishes.
---
So maybe I'm motivated by a singular, but very persuasive reason. And these enchilada stuffed portobello mushrooms barely make any dishes…just one bowl. You're welcome!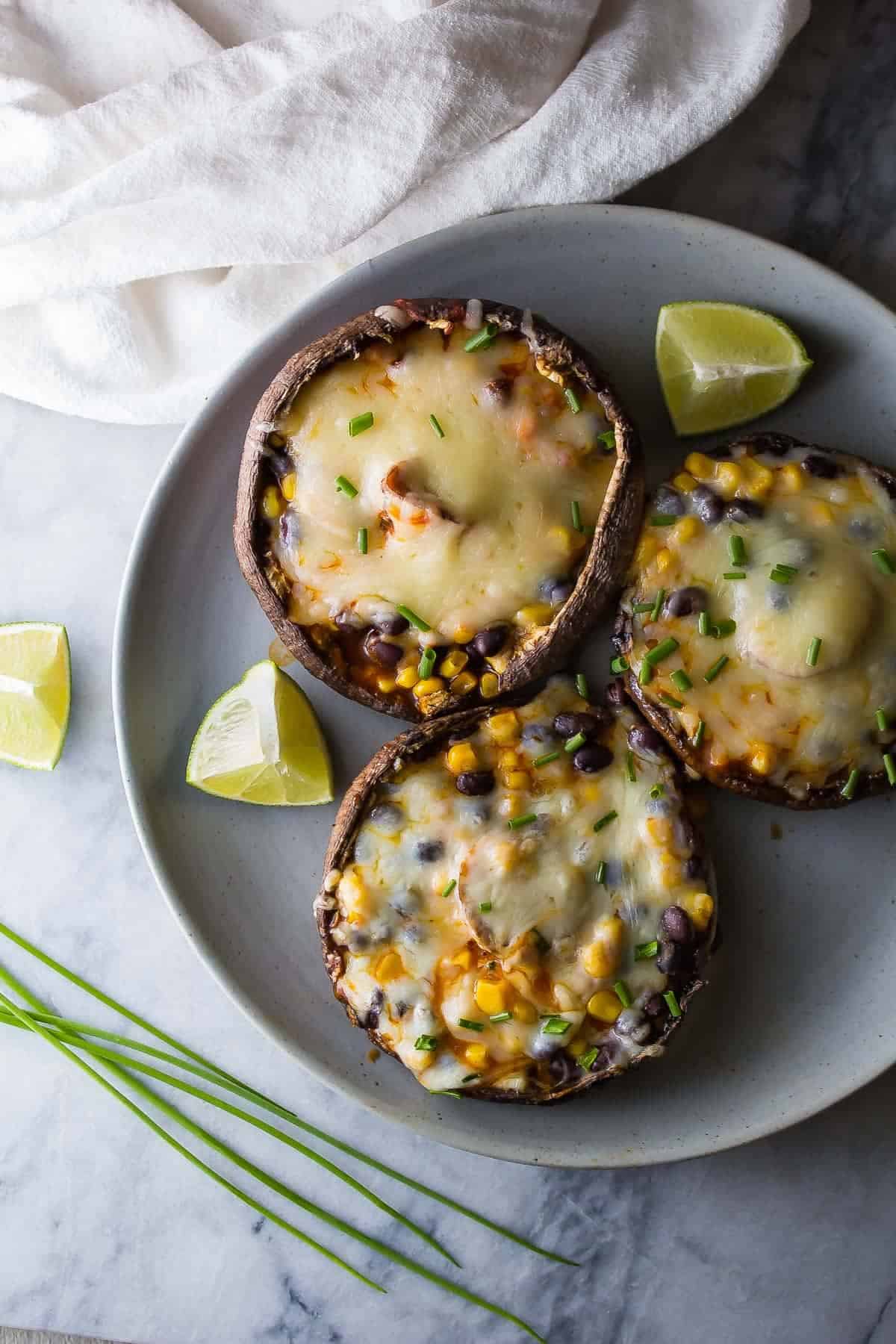 I am so happy because Ben (aka Mr. Carnivore) has not been putting up a fight when it comes to vegetarian recipes lately. Probably because I always always ALWAYS make sure there is plenty of protein to keep us full. There is nothing worse than feeling hungry an hour after dinner, right?
These grilled portobello mushrooms are no exception. They are filled with corn and beans, enchilada sauce, and topped with cheese. So lots of protein! We enjoyed ours with a side salad, but on their own, the mushrooms are quite filling!
I got the idea to make these mushrooms when I was looking back at this Grilled Mushroom Appetizer with Bruschetta and Goat Cheese . It got me thinking about all the delicious things you can stuff in a mushroom cap. And enchilada flavors sounded pretty darn perfect.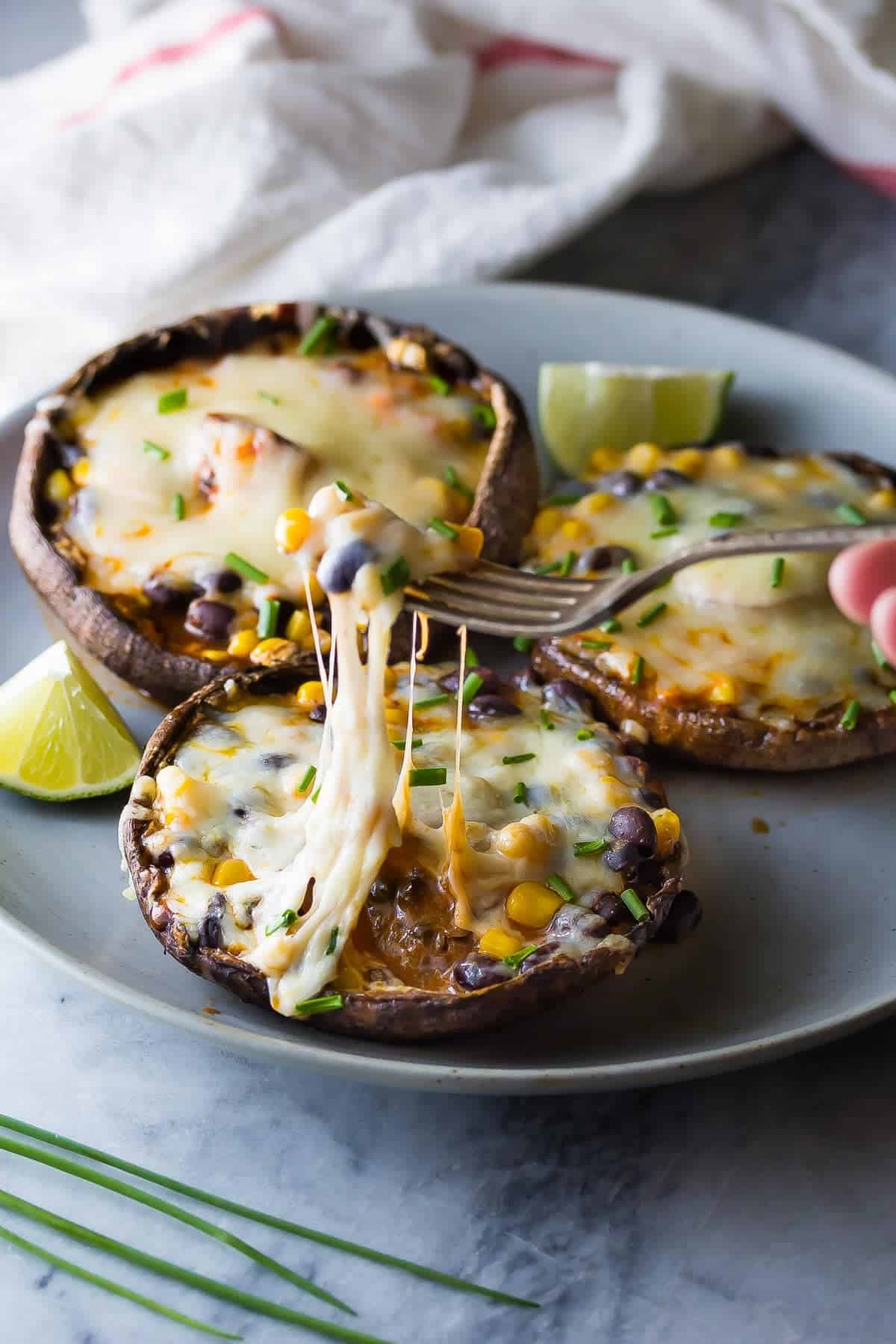 My first batch of these ended up really watery…the mushrooms release liquid as they cook and it turned the enchilada sauce into a soupy liquidy mess.
So for round 2 I mixed the enchilada sauce with a tablespoon of flour and that did the trick. Much less soupy!
These guys only need to cook on the barbecue for 5-6 minutes! The cheese gets melty, the sauce is bubbly and the mushrooms are *just* cooked through. You don't want them to overcook because they collapse into a pile of mush and the enchilada sauce will escape.
In total, this recipe is ready in 21 minutes! Does that sound like the perfect Thursday dinner recipe or what?
Instructions
More Recipe Ideas & Resources
---
Pre-heat your barbecue to medium-high heat.

Using a small spoon, scoop the gills out of the mushrooms.

Brush mushroom exteriors with olive oil and place on a large plate.

In a medium bowl, whisk together the enchilada sauce, salt and flour until no lumps remain.

Spoon around 2 tablespoons of corn and black beans into each mushroom. Drizzle with the sauce. Top with shredded cheese.

To grill: Grill over direct heat (on a veggie grilling plate, or directly on clean grill) for 5-6 minutes, until cheese is melted and sauce is bubbling.

Sprinkle with chives and serve with a side salad.

To bake: Heat oven to 450°F. Bake for 5-10 minutes, until cheese is bubbly and mushrooms are softened (but not mushy).
Notes
Canadians: I was able to find Casa Fiesta enchilada sauce in my neighborhood Co-op grocery store, but if you are unable to find it, I've used this recipe to make it from scratch in the past.
Article source: http://sweetpeasandsaffron.com/2016/05/enchilada-stuffed-grilled-portobello-mushrooms.html