I post a lot of recipes on my Facebook Page. Some of them are mine and others are from blogger friends of mine who I trust and love their recipes. I don't make all the recipes that I share on the FB page. Every once in a while though, I share another bloggers recipe and I KNOW I have to try it. Today's recipe is one of those. By the way if you don't follow my Facebook page , I'd love to invite you to follow along! I also have a new Facebook Group that is a great place to get more recipe and dinner ideas! I'd love for you to join that too.
More Healthy & Deliceous Recipes
---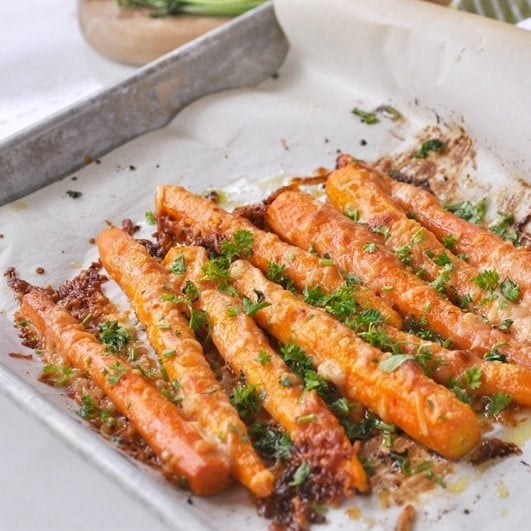 As a kid I was one of those that didn't like eating vegetables and carrots were not a favorite. In fact, the only vegetable I would eat was green beans, the kind that came out of a can! Can you believe it! But as I've matured and my tastes have changed and evolved I've really learned to love cooked carrots. I'm still not a fan of raw carrots. These roasted carrots are amazing. So amazing in fact, that I have made them multiple times already.
They are super easy to do and you are going to find yourself making them over and over again too. The carrots are peeled and then drizzled with butter and garlic. I like to put them on a parchment paper lined baking sheet for easier clean up.
Roasted Carrots
Roast them in a 400 degree F oven for about 15 minutes. Then, pull them out, shake the pan to rotate the carrots and sprinkle with grated Parmesan cheese. Put them back into the oven for another 10 minutes or until they are tender and the cheese melted and browned. That browned, crunch cheese is amazing and I may have picked it off all the carrots and eaten it all myself.
Finally, top them with some chopped fresh parsley and they are ready to serve.
They are seriously going to quickly become your favorite way to eat carrots! And you won't have to tell anyone to eat their carrots beacuse they are going to gobble these up.
Roasted Carrots Recipe
Parmesan Roasted Carrots
You will fall in love with these Parmesan Roasted Carrots. They are a sure fire way to get the kids and grown-ups to eat their vegetables!
Ingredients
8-10

carrots

peeled

2

Tbsp

butter

melted

2

tsp

garlic

minced

4

Tbsp

Parmesan Cheese

1

tsp

chopped parsley
Instructions
Preheat oven to 400 degrees F.

Mix melted butter and garlic together.

Place carrots on a parchment paper lined baking sheet.

Drizzle with butter/garlic mixture.

Roast in oven for 15 minutes.

Shake pan ocassionally to rotate carrots.

Top with cheese and roast for another 10 minutes or until carrots reach desired doneness.

Top with parsley and serve immediately
Everyone today want to be healthy and thinner, but Losing weight isn't enough anymore. People want more energy and confidence along with a slim waist. The Red Tea Detox program combines toxin-cleansing with healthy supercharged weight loss power. It's a time tested, proven cleansing solution that detoxifies the body and sheds pounds quickly and safely. It allows anyone to lose 14lbs in just 14 days.

Watch the Video Below for More Info... Then Click the Blue Button Below for All the Details!